Submitted by Bob Bhatnagar on
Chronic Dev Team released another update to the Absinthe jailbreak tool for Mac. The new application jailbreaks the iPhone 4S and iPad 2 untethered and addresses several bugs that users reported while using Absinthe. Planetbeing reports the team has attempted to fix the white icons some users were seeing on their home screens after jailbreaking.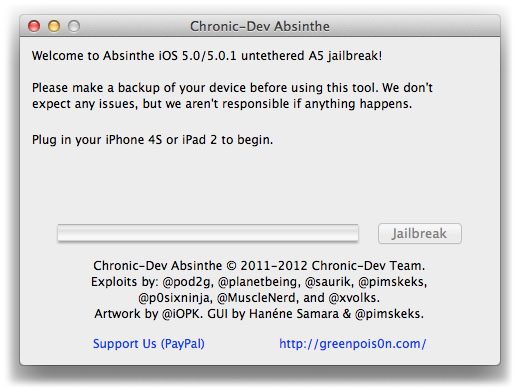 Absinthe version 0.2 also attempts to fix another issue where the iOS device fails to reboot after turning on VPN and touching the Absinthe icon on the home screen. Hopefully the latest version, which was also released for Windows, will help minimize problems for iPhone 4S and iPad 2 owners looking to install Cydia.
Absinthe jailbreaks the iPhone 4S running iOS 5 / iOS 5.0.1, and the iPad 2 running iOS 5.0.1. The iPhone Dev-Team is currently working on incorporating the A5 jailbreak procedures into an update to their popular redsn0w jailbreak tool.
You can visit pod2g's blog to donate directly to the iOS "dream team" for all of their hard work. Donations are not required, but they are appreciated by the developers who worked long hours to bring you this free service. The money also helps contribute to future jailbreaks and updates, and will be divided fairly among the team members.
For full instructions on how to
jailbreak the iPhone 4S and iPad 2 with Absinthe click here
.
Download the Absinthe software from greenpois0n.com or directly from these links:
Absinthe version 0.2 (Mac OS X)
Absinthe version 0.2 (Windows)