Submitted by Bob Bhatnagar on
Chronic Dev Team has released GreenPois0n RC6 for Mac OS X and Windows. Untethered jailbreaking is now possible on all recent iOS devices including the iPhone 3GS, iPhone 4 and Verizon iPhone 4. GreenPois0n RC6 has added support for Apple TV and doesn't require any saved SHSH blobs. And did we mention that it's untethered?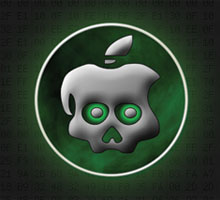 Jailbreaking an updated AT&T or Verizon iPhone is now an easy process thanks to Chronic Dev Team. The software packages for Mac OS X and Windows can be downloaded directly from greenpois0n.com with a Linux version in the works. With a jailbroken device, users can install and use a variety of apps from independent developers using the Cydia app installer. For those new to the scene, rest assured that iPhone jailbreaking has been declared legal here in the US.
Two cautions: GreenPois0n RC6 will not hacktivate your iPhone, and it will NOT unlock your iPhone for use with other carriers. If you're interested in a future SIM unlock, you must preserve your baseband using TinyUmbrella. Using GreenPois0n is one of the easier jailbreaking processes we've seen. Here are instructions:
1. Check to see if you're jailbreaking a supported iPhone. These include the following:
- iPhone 3Gs (all bootroms)
- iPhone 4 AT&T Mobility
- iPhone 4 Verizon Wireless
2. Make sure your AT&T iPhone is running iOS 4.2.1 (Verizon iPhone must be running iOS 4.2.6). You can check by navigating to Settings -> General -> About -> Version. If necessary, update your firmware using iTunes.
3. Download GreenPois0n and plug your iPhone into the computer.
4. Close iTunes. Run the GreenPois0n software. Follow on-screen instructions.
5. Your iPhone will reboot twice. After the jailbreak is installed run the Loader app on your iPhone and follow the instructions to install Cydia.
6. Reboot your iPhone one last time and the jailbreak process is complete.