Submitted by Bob Bhatnagar on
Chronic Dev Team released another update to the Absinthe jailbreak tool for Mac. The new application jailbreaks the iPhone 4S and iPad 2 untethered and addresses several bugs that users reported while using Absinthe. Planetbeing reports the team has attempted to fix the white icons some users were seeing on their home screens after jailbreaking.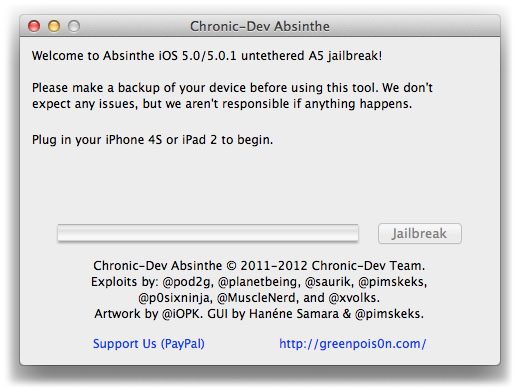 Absinthe version 0.2 also attempts to fix another issue where the iOS device fails to reboot after turning on VPN and touching the Absinthe icon on the home screen. Hopefully the latest version, which was also released for Windows, will help minimize problems for iPhone 4S and iPad 2 owners looking to install Cydia.