Submitted by Marshall Walker on
The iPhone 5 can now be purchased unlocked in the U.S. via the Apple Store. An unlocked iPhone allows Apple customers to buy the device without agreeing to a two-year carrier contract, however, this also means users are stuck paying an unsubsidized price. Apple is offering the 16GB model for $649, the 32GB model for $749 and the 64GB model for $849.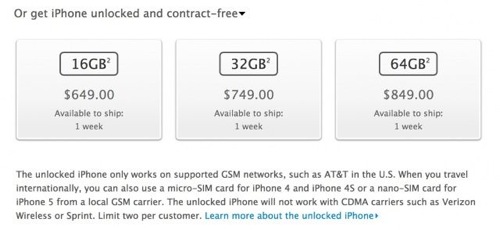 The unlocked iPhone 5 only works with GSM wireless networks such as AT&T and T-Mobile (T-Mobile customers considering buying an unlocked iPhone 5 may want to wait until next week to see if the T-Mobile iPhone rumor is true). The unlocked iPhone 5 does not support CDMA-based carriers such as Verizon Wireless or Sprint, and requires a nano-SIM card to work.