Submitted by Marshall Walker on
You're not experiencing iPhone 5 déjà vu. Last year major iPhone carriers and retailers started blacking out employee vacations for what we all thought would be the iPhone 5 release, and it seems to be happening again. A "trusted Verizon employee" told TechCrunch Verizon has blackout out vactations from September 21 to September 30 in anticipation of a new iPhone.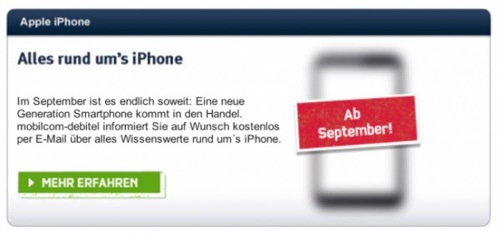 Verizon's blackout supports an earlier report which claimed Apple will begin selling the next generation handset on September 21. If true, you can expect Apple stores and other iPhone carriers such as AT&T and Sprint, to begin blacking out the same dates for their employees in the near future.
A German wireless carrier also seems to think the iPhone 5 will be available in September. 9to5Mac published an email from Mobilecom Debitel informing their customers about a fall iPhone release. Here's the translation for the picture above:
"In September, it's finally time for a new generation of smartphone to go on sale. mobilcom-debitel allows you to find free e-mail about everything worth knowing about iPhone."
While it seems likely that Apple will announce the new iPhone on September 12 and launch it 9 days later, I remind you, that nothing is official until Apple says it's official. Remember, we were all misled by iPhone 5 rumors last year, so don't go marking your calendars just yet!