Submitted by Bob Bhatnagar on
Another hardware unlock solution has appeared, the R-SIM from Each Supplier. This SIM interposer works with the iPhone 4S running iOS 5 or iOS 5.0.1 making it possible to use the device on any compatible GSM carrier network.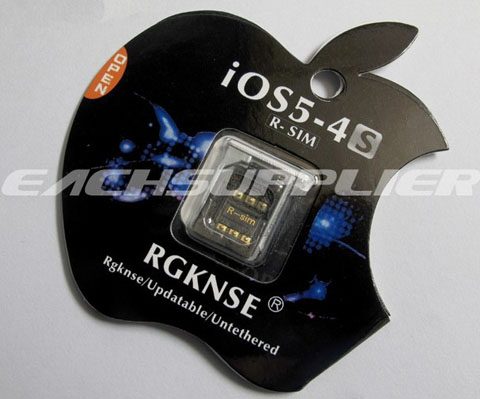 iPhone Dev-Team has not made recent announcements regarding updates to ultrasn0w, the software unlock solution for jailbreakers. One advantage of the R-SIM is that the product does not require a jailbroken iPhone to unlock the device.
Using the R-SIM is simple, assuming the SIM interposer works as advertised. They do claim to offer a guarantee. After ordering and paying the $57.99 purchase price with free shipping, the R-SIM is used in place of your existing SIM card tray. Place your SIM card into the R-SIM and slide the new tray into your iPhone 4S. From the product page:
- Wait a few seconds then Navigate to Settings -> Call -> Sim Application -> Country & Operators to choose your carrier.
- Back to previous menu and choose Enter 112 Mode, then back to the main menu and wait until the message pops up. Click "ACCEPT", then wait 5 seconds, Dial 112. When calling 112, pull the SIM card out. Click "Yes" when message pops up, then put SIM card in, end this call.
- Then just wait about one minute and the iPhone 4S is unlocked.
The R-SIM is limited to GPRS data speeds as the product does not currently support 3G networks. Still, if you have occasion to unlock your iPhone 4S the R-SIM could be a less expensive alternative to spending $649 on an unlocked 16GB iPhone 4S from Apple. According to Each Supplier an unlock for the iPhone 4 at baseband version 4.11.08 is coming soon.