Submitted by Pete Sofflaw on
Absinthe co-creator pod2g dropped some disappointing news on the jailbreaking community on Tuesday. The iOS hacker announced he's not working on a jailbreak for iOS 6. Pod2g is mostly responsible for the last untethered jailbreak most jailbreakers are currently using today.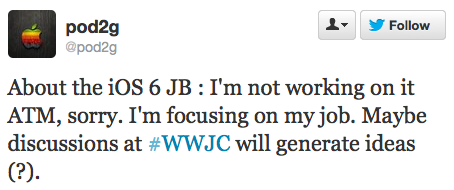 Pod2g's announcement doesn't mean a new jailbreak is not in the works. Another iOS hacker known as Chpwn, tweeted an image of a jailbroken iPhone 5 with Cydia installed over the weekend. This is a good sign that a public iOS 6 jailbreak could be available in a few months.
Pod2g also noted he will be attending the JailbreakCon event at the South San Francisco Conference Center on September 29. Maybe his fellow jailbreakers will convince him to reconsider his decision. Either way, it's unlikely that an untethered iOS 6 jailbreak will never be made available. It is just a question of how long will it take.