Submitted by Frank Macey on
iPhone 4 owners who use FaceTime are no doubt familiar with the FaceTime Unavailable message: Turn on cellular data or use Wi-Fi to use FaceTime. Reports indicate that Apple may be planning to enable FaceTime over 3G with the release of iOS 5. This is a welcome change however some wireless carriers might not allow the practice, especially with unlimited data plans.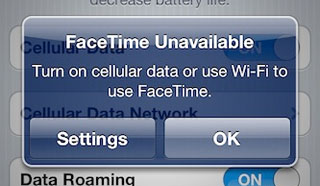 Fortunately you can ensure 3G access to FaceTime right now with a jailbreak Cydia package called My3G. We've featured My3G as a must-have app in the past and for $3.99 it's still worth every penny. Not only this, but My3G will also allow other data apps to use the 3G connection instead of operating on Wi-Fi only.
Getting FaceTime to work over 3G with the iPhone 4 or iPad 2 requires a jailbroken device. With the introduction of JailbreakMe 3.0 the process of jailbreaking your device is easy. Once jailbroken, My3G can be installed directly from the Cydia app store.
My3G by Intelliborn
can be found in Cydia using Search or under Sections -> System -> My3G. There's a three-day free trial after which you'll need a license to continue using the app. Paying the one-time $3.99 charge is accomplished using Cydia's Store Purchase system. First authenticate with a Google or Facebook account, then send payment via PayPal or Amazon Payments.
Once installed, My3G will be ready-to-go on the most popular apps and can be configured to work with individual enabled applications. Pop up dialog boxes can also be configured to ask whether or not to let an app connect via 3G instead of Wi-Fi. App Store apps over 20 MB can now be downloaded over 3G and HD videos watched on YouTube, etc.
When it comes to FaceTime, My3G makes it possible to hold a video call wherever there's a decent 3G signal. Just remember, using the cellular data network will count against your data plan allotment. If you're on a tiered data plan make sure to keep track of your FaceTime 3G data usage before you near the limit.