Submitted by Frank Macey on
Everyone is waiting for iOS 5 to be released so they can enjoy all of the new features coming to Apple mobile devices. One of these features allows iPhone owners to tap out custom vibration alerts. This is useful because different contacts or types of notifications will vibrate in a specific pattern.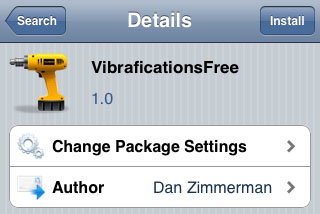 You can know who's calling right away without even looking at the iPhone screen. If you have already jailbroken your iPhone this feature can be installed now, without waiting for iOS 5.
The Cydia app store has two apps that will add this capability to your device. Vibrafications can be found under Sections -> Tweaks or by using the search function in Cydia. The full package costs $3.99 but a free version is also available, VibraficationsFree. With the free version push notifications will send three vibrations and an incoming text message will send two vibrations. There are no icons added to your home screen or options to configure.
The paid version of Vibrafications allows several default vibration patterns for different notification types and even custom patterns for individual contacts in mail or text messages. All new vibration patterns are set up via Settings -> Vibrafications after installation. Individual apps with push notifications can be added and individual contacts can be configured under the Mail or Messages section of the Vibrafications settings screen.
Another option for custom vibration patterns is the Cydia app MyProfiles. The application costs $6.99 but offers many customization options for alerts in addition to new vibration patterns.