Submitted by Frank Macey on
Finding your USB cable and plugging in the iPhone to a computer to sync can be a hassle. iOS 5 will allow users to sync wirelessly on a Wi-Fi network, but the new operating system isn't due for release until later this year. Luckily for those with jailbroken devices Wi-Fi syncing in possible right now.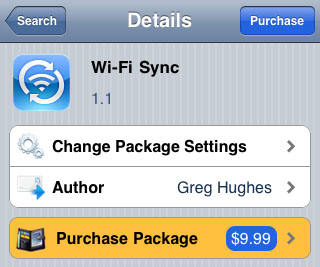 The Cydia app is named Wi-Fi Sync, and it can be found using the search function or by navigating to Sections -> Networking. The package costs $9.99 and can be paid for using Cydia's app store which accepts payments from PayPal and Amazon Payments.
Once installed, Wi-Fi Sync conveniently syncs your music, apps, contacts, videos, books, calendars and photos with the touch of a button. No cable required and your iPhone will even appear in iTunes on your computer just as if it's plugged in. Wi-Fi Sync is one of the most popular apps on Cydia and has been reviewed by many tech websites and publications.
The only catch is that you'll need software on your computer to sync the iPhone over your Wi-Fi network. These applications can be downloaded directly from getwifisync.com for Mac and Windows computers. The software for your computer is absolutely free, but requires that Wi-Fi Sync be purchased and installed on your iOS device.
Restoring or updating your iPhone still requires that you plug in the USB cable, but everyday syncing can be accomplished with Wi-Fi Sync from anywhere within range of your network. Why wait for iOS 5 to sync wirelessly?