Submitted by Bob Bhatnagar on
Sometimes you're in the middle of reading something on the iPhone and an incoming banner notification suddenly covers up the top of the screen. This can be irritating if the content is important or you're doing something else that requires more display real estate. If you're iPhone is jailbroken, now you can install CoverMeNot to improve these banner notifications.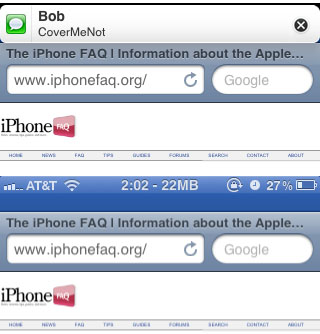 What CoverMeNot does is simple but effective. The images above illustrate what happens when the tweak is installed and a notification banner appears. The status bar at the top of the screen is automatically made wider to match the size of the notification banner.
This makes room for the notification and slides everything down, preventing the banner from blocking content in the app. The status bar expands to double its normal width, and when the notification is cleared or times out it shrinks back to normal. CoverMeNot is available in the Cydia app store under Sections -> Tweaks or you can find the package using the Search function. The tweak is available on the ModMyi repo for free.
Check out some of developer cjori's other tweaks, including Dashboard X, Applocker and Aloud. Once installed, CoverMeNot works its magic with no settings or options to configure. To stop CoverMeNot from extending your status bar, simply remove the package under Cydia -> Manage -> Packages.