Submitted by Bob Bhatnagar on
iPhone users seem to fall into two camps, those who use Newsstand and others who can't stand it and want to delete or hide the Newsstand icon in a folder. The jailbreak tweak known as Booksstand may help those in the first group, however iPhone owners with no use for Newsstand won't be converted.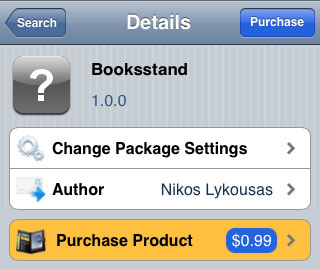 What Booksstand does is consolidate your iBooks and Newsstand content into one place, putting shortcuts to your iBooks content in the Newsstand. When you select a book from the Newsstand, this triggers iBooks to open and the content to be displayed.
This means that magazine subscriptions and books can be browsed and launched from the same place, the Newsstand application. No more switching back and forth between Newsstand and iBooks to open content. Both books and PDF files can be added to Newsstand directly from the iBooks application once the tweak is installed. There are no settings for Booksstand, the tweak simply makes a shortcut to the book appear on the Newsstand shelves.
Note that books can't be removed from the iBooks app without deleting them from Newsstand. To install Booksstand you must be running iOS 5 and iBooks 2. The only catch is that Booksstand costs $0.99 in the Cydia jailbreak app store. Find it now under tweaks on the BigBoss repository.