How can I put the Newsstand app in a folder?
UPDATE: Now you can hide Newsstand in a folder using StifleStand. The software for Mac or Windows computers can be downloaded free and is compatible with all iOS 5 and iOS 6 devices.
Some users have complained that iOS 5 will not let them put the iPhone Newsstand app icon into a folder for safekeeping. For those who don't plan to use the Newsstand application or would like to organize this app in a folder, read on because there is a workaround.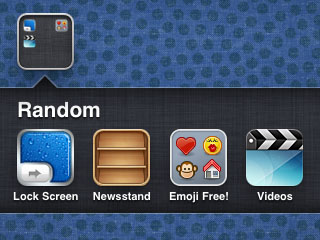 There's no telling how long Apple will let this bug go unfixed, however for the time being iOS 5.0 can be tricked into letting Newsstand enter a folder. The only catch is that Newsstand won't run without crashing your iPhone unless you take it out of the folder first.
To put Newsstand in a folder, first create a new folder by moving one icon on your home screen onto another. You will notice as the folder is created there's some animation before the folder opens up and names itself. To move Newsstand into a new folder you have to slide the Newsstand icon over the new folder during this animation, just as the folder is first being created by iOS 5. If you're not quick enough then Newsstand will not join the other two apps in the folder and you'll have to start over again.