Submitted by Bob Bhatnagar on
Sure the iPhone already has voice control commands, just hold down the home button and tell your device to call someone or play a tune. iOS 5 could bring voice control to a whole new level of integration if recent reports from 9to5Mac come true.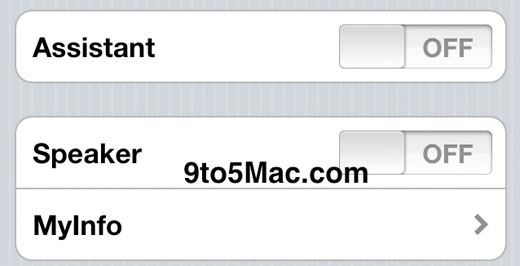 Apple has driven speculation that it is bringing improved speech-to-text technology or even voice navigation to iOS 5 since its 2010 acquisition of Siri and recent partnership with Nuance. Both companies currently have free applications in the App Store that heavily utilize voice recognition technology.
Siri Assistant provides information on restaurants, movies, taxis and more, by simply asking for what you need. Nuance has launched Dragon Dictation and Dragon Medical to help iPhone users with speech-to-text recording from anywhere with a data connection. The screenshot above from 9to5Mac is purportedly from an Apple iPhone test unit, and reveals that the company is developing and testing a new Assistant feature that could integrate many of the functions of Siri using Nuance technology. 9to5Mac confirmed that Assistant is in development by exploring iOS 5 SDK (software development kit) code.
Should Assistant be integrated into iOS 5, the software would use voice queries along with ancillary data such as location and contact information to determine the best course of action. Just as Voice Control first appeared as an iPhone 3GS exclusive feature, 9to5mac speculates that Assistant could be released as a special feature exclusive to the iPhone 5. It's not clear yet if Assistant will be ready for launch this fall, or if Apple will wait for a later firmware update such as iOS 5.1.
Assistant would be set apart from current Voice Control commands as it would be fully integrated into the operating system. Not only this, but Apple is expected to use crowd-sourced speech data from users to continually improve voice recognition accuracy over time.