Submitted by Bob Bhatnagar on
Apple watchers have long known that the company integrated social networking service Twitter into its next generation mobile operating system iOS 5. What remains to be seen is whether or not Facebook will join Twitter and enjoy its own iOS 5 integration on iPhones and iPads. The screenshots below are from MacRumors however the site couldn't vouch for their authenticity.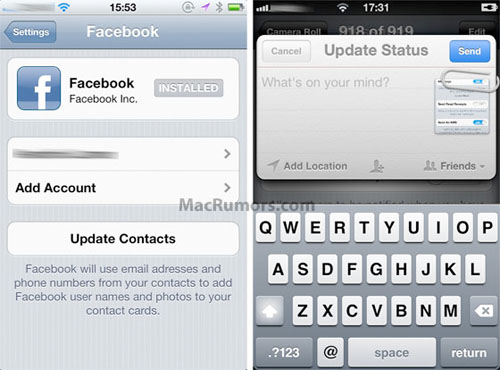 For one thing, the word addresses is spelled wrong which points to these being a simple mockup or someone's independent dream. On the other hand, with Twitter hitting iOS 5 full force it's hard to imagine that Facebook doesn't want a piece of this attention from Apple users. Not only this, but Facebook is strangely said to be planning an iPad app announcement on the same day that Tim Cook is scheduled to announce the next generation iPhone.
Could Apple and Facebook have something up their sleeves? Apple formerly rejected Facebook's terms for integration into its social music service Ping when the new feature was released with an update of iTunes. It's possible that both companies have had second thoughts considering the immense popularity of Facebook and the impending competition from social networking service Google+ (not to mention Apple's ongoing battle with Google's Android devices).
The screenshots themselves look much like the Twitter integration into iOS 5 that has already been revealed. On the left we see Settings for Facebook system-wide. The right screen capture (or mockup) shows what sharing photos might look like, complete with friend tagging and geotagging options. Besides the misspelling it appears that the Wi-Fi icon is moved closer to the center of the status bar in the right image. If someone were crafting a fake would they really let these details slide before they sent the tip to MacRumors?
The good news is that Facebook fans only have a few more days before they find out for certain whether or not Apple has integrated their favorite social media site into the final release of iOS 5.