Submitted by Bob Bhatnagar on
The latest round of updates and changes to Apple's mobile operating system hit developer's iPhones yesterday, and with it a new expiration date that could indicate the final release date for iOS 5. Not only this, but Apple's next generation iPhone 5 hardware is expected to launch simultaneously and ship with iOS 5 installed.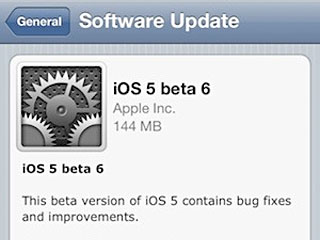 Developers with iOS 5 beta 3 or later can install the beta 6 update over-the-air (OTA) via a 144 MB download. According to developer @iH8sn0w, the expiration date for iOS 5 beta 6 is Thursday September 29, 2011. The million dollar question is will this be the last beta version of iOS 5 or not?
The date coincides nicely with several other bits of information pointing to an early October release date for the iPhone 5. If Apple sticks to its typical Monday announcement schedule we could see an iPhone 5 event as early as September 12. AT&T employees have been told to get ready for action this October, with stores expected to be busy in the next 35-50 days. Blackout dates for Apple employee vacations and other information points to an iPhone 5 release ahead of the holiday shopping season this year.
When it comes to the iOS 5 beta 6 software, developers can update by navigating to Settings -> General -> Software Update on their devices. Apple does not recommend that developers start from scratch this time, simply update OTA. The firmware itself contains several bug fixes to known features and a few new items as well. Most of the new items have to do with app development and involve the Interface Builder, UIKit and iCloud Storage features. For a complete list of changes to iOS 5 beta 6 see the change log at BGR.
iPhone owners with the iPhone 3GS and iPhone 4 will be able to update to iOS 5 when it finally releases this fall. If Apple seeds iOS 5 beta 7 expect to see the software in the next 10 days.