Submitted by Bob Bhatnagar on
Too many notifications popping up on your iPhone lock screen? If your device is jailbroken, there's an easy way to clear iOS notifications without unlocking. ClearLockNotifications is a simple tweak that adds more functionality to the lock screen without complexity.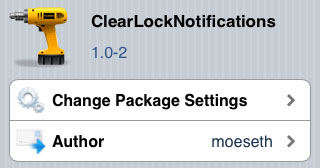 There are no icons or settings for ClearLockNotifications once installed. The first way to clear your lock screen notifications is to touch and drag down on the lock screen. When dragging down to clear notifications, the text "Pull down to clear" will appear over the clock.
Let go and that's it, your lock screen notifications will disappear. Another way to remove these notifications for a specific application is to tap the notification. ClearLockNotifications will indicate how many notifications have arrived for the app and provide a white "x" next to the count. Tap the "x" and the notifications will clear off the lock screen.
ClearLockNotifications works the same way in the notification center as it does on the lock screen, and is available for free from the BigBoss repo on Cydia. You can find the package under Sections -> Tweaks or by using the Search function. Installation requires a jailbroken device running iOS 5 or later.
Note that ClearLockNotifications will also clear badges on the home screen icon for any apps that have their notifications cleared from the lock screen or notification center.