Submitted by Bob Bhatnagar on
The iOS 7 keyboard redesign is slick and easy to read. It's also bright, which means that any time the keyboard pops up in an application users are greeted with white keys. For a more subdued look, the jailbreak tweak Bloard does the trick. The name is a portmanteau, combining the words black and keyboard.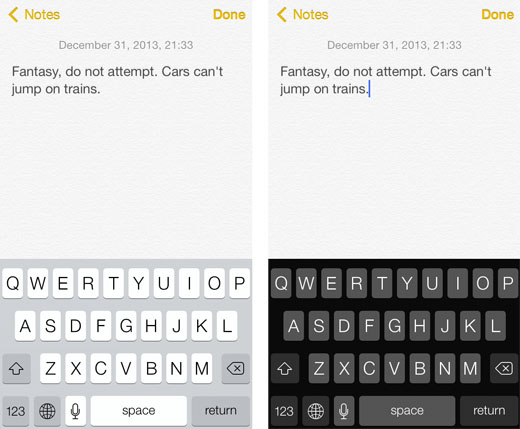 As you might guess, Bloard does one thing and does it well. Once installed, the tweak darkens the keyboard to what developer GN-OS describes as a "nice light black". Keyboard markings are reversed to white. There are no settings to configure, and the tweak will automatically darken keyboards in any iOS 7 app.
For those with jailbroken devices and a preference for the darker keyboard shown above, Bloard is a one-stop solution. Bloard can be toggled on or off directly under Settings -> Bloard.
Bloard is available on Cydia from the BigBoss repository free of charge. Check here for instructions on how to jailbreak iOS 7.x with evasi0n 7. You can also find out how to purchase and install Cydia tweaks with this guide.