Submitted by Anders Batten on
A new bug discovered in iOS 8 by Happy-Touch (via 9to5Mac) is causing the Kids section of Apple's App Store to display some inappropriate apps. For example, the Top Grossing apps for "Kids 5 and Under" is displaying titles like Game of War, which is recommended for 9-years or older, and the popular dating app Zoosk.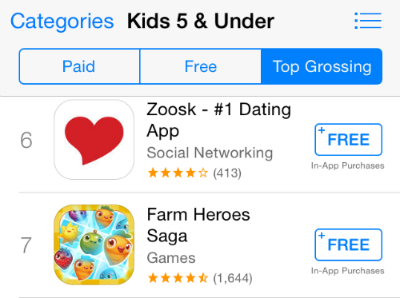 Unless your 5-year old has already started dating, you may want to pay close attention to what you download from the the All Kids, Kids 5 & Under, Kids 6-8, and Kids 9-11 categories until Apple fixes the problem. The bug only seems to a be affecting devices running iOS 8 or later, and it has been found on both the U.S. and Canadian App Stores, according to 9to5Mac.
The launch of iOS 8 has been a rocky one for Apple. The iPhone company has had to release two updates to fix a variety of issues since the new OS was released only a few weeks ago. iOS 8.0.1 was released on September 24 to fix an issue plaguing Apple's Health app SDK, but the update broke both Touch ID and cellular data on the iPhone 6 and 6 Plus. Apple quickly released iOS 8.0.2 the next day to fix all the problems plaguing iOS devices since the launch of iOS 8.0.
Apple is aware of the latest App Store bug and is working on solution.