Submitted by Frank Macey on
Holdouts with iOS 7 installed on their iOS 8 compatible devices now account for just 33 percent of total users. Apple metrics collected on the App Store point to a slowdown in iOS 8 installations, which initially soared in the early days after release. Still, the number of iOS 8 adpotions continues to tick upward.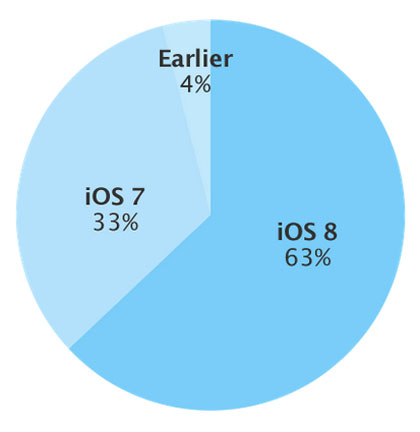 The total number of iOS compatible devices running iOS 8 currently stands at 63 percent. This leaves only four percent of newer hardware running iOS 6 and earlier firmware. The jump from iOS 6 to iOS 7 was a more dramatic redesign, with users installing the update at a much faster clip.
To compare, the iOS 7 adoption rate in early December of 2013 stood at 74 percent, a full 11 percent higher than iOS 8. One can only speculate as to why iPhone, iPad and iPod touch owners are now installing iOS 8 at a slower rate. It's possible that the similarity between the two versions of firmware is putting off users from going through the update process. After all, updating to iOS 8 over-the-air requires a significant amount of free storage space, which may not be available on many devices.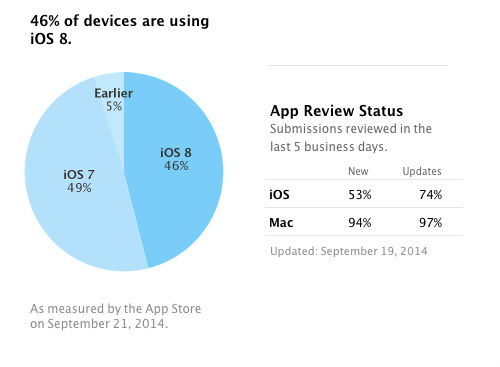 In the first four days after iOS 8 was released, a whopping 46 percent of compatible devices had been updated. While the adoption rate has now leveled off, slow and steady wins the race. Apple's recent 8.1.1 update specifically addressed performance issues on older devices such as the iPhone 4s and iPad 2. Some users may have been waiting to update after initial reports that iOS 8 would slow down their phones.
When iOS 8 was first announced in May 2013, around 90 percent of iPhone owners had already installed iOS 7.