Submitted by Frank Macey on
Apple continually strives to improve the iPhone's picture taking capabilities, and the iPhone 4 and 4S are no different. Maybe the impressive low light capabilities and high resolution photos are not the look some photography buffs enjoy. If the five-element lens in the iPhone 4S is too perfect for your tastes Holga has just the accessory for you.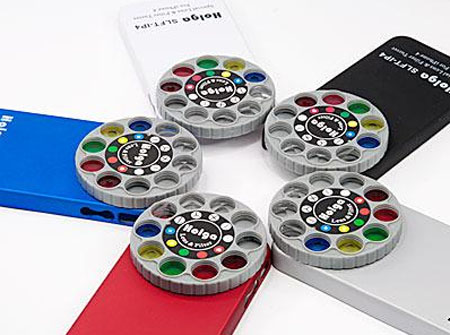 Now you can transform your iPhone 4 or 4S into a toy camera, Holga style. The SLFT-IP4 iPhone lens filter kit fits like a normal case on your device, but gives you access to nine different retro special effects without using software.
As you can guess by the photo, simply turning the dial will provide a different lens or filter, which fits perfectly over the iPhone camera. The case is available in five different colors, while the lens and filter dial is the same on each model. Your new fun pictures will be transformed into one of the following Holga styles:
60mm Macro Lens for closeups
Dual Image Lens simulates a Holga 2 way split image filter
Triple Image Lens for the Holga 3 way split image filter
Quadruple Image Lens simulates a Holga 4 way split image filter
Blue Filter with clear center gives photos a moon atmosphere
Yellow Filter with clear center for a sunset atmosphere
Red Filter with a clear heart shaped center
Green Filter to enhance green
Red Filter to reduce green and blue
The dial on the Holga kit iPhone case actually has 10 different settings, one of which is an empty hole for straight shooting without any effect. The Holga case is available now for $24.99. Don't worry, if you have some 35mm or 120 film lying around you can still get your hands on a classic Holga camera at the same
Holga website
.