Submitted by Bob Bhatnagar on
The long wait is over for iPhone gaming enthusiasts. Finally the iControlPad, a concept that first surfaced in May 2008 is available for order and shipping next week. The device has two clamps that snap on around any model of iPhone, instantly giving the phone portable gaming controls.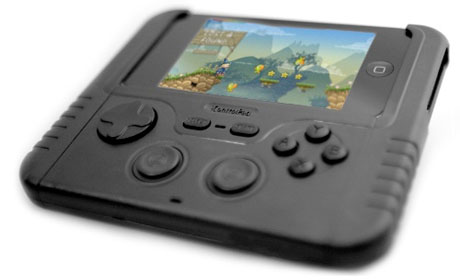 iControlPad works with other smartphones as well thanks to Bluetooth connectivity. Essentially the accessory holds the device of your choice in place and provides a digital d-pad, two analog nubs, six front buttons and two rear buttons. At 1500 mAh, the battery in the iControlPad can even charge your iPhone with a USB cable.
The iControlPad has gone through several design revisions since it was first conceptualized. The current design provides gamers with incredible flexibility and even includes upgradeable firmware for future improvements. A prototype of the current design was spotted in November 2009 hooked up to an iPhone playing Super Mario Kart.
This is the big question when it comes to the iControlPad, what games can we play? Most likely (at least in the beginning) iPhone users will have to jailbreak to take advantage of game titles that will not be available on the App Store. iControlPad will be distributing a software development kit to those interested in creating new applications for the device. Fans of the accessory will need to talk it up with developers to insure that more games are on the way. In the meantime, countless retro titles are already playable on iOS devices for those who have jailbroken.
To purchase an iControlPad you can
order directly from their website
, with shipping scheduled to commence around February 16, 2011. Each iControlPad comes with the main unit, two clamps, a USB charger and instruction manual for $74.99. Act quickly if you're interested, the first run is scheduled to produce 3,000 units and they're already going fast.