Submitted by Chad Shmukler on
While we've all gotten a kick out of the NES, Genesis, and GBA emulators for the Apple iPhone, truth be told there's not all that much real gaming going on. It would be hard to argue that using the touchscreen joypad offers ample control. This has left truly entertaining gaming to games more natively designed for a touch screen system. Until now. Though not available yet, iControlPad is cooming soon with its eyes set on changing the face of gaming on the iPhone.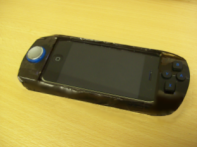 The iControlPad is one of those accessories that you always thought someone should make, but figured no one ever would. Still in
its development phase, the iControlPad is a case/docking accessory for the iPhone that provides a real control pad and buttons for use in iPhone gaming.
At a glance, the iControlPad looks like a typical iPhone case. Though it functions and looks like a case, the iControlPad is much more. The iPhone is said to slide easily into the iControlPad an dock securely, providing a PSP-style control interface for landscape gameplay on the iPhone. Without question, this looks sweet.
As of last week, the iControlPad was in a working prototype phase. There's no word yet on when it will be officially available, but there are reportedly already units in the hands of well-known iPhone gaming developers such as ZodTTD, who has created PSX and GBA emulators for the iPhone.
The photo above shows the latest prototype version of the iControlPad, with the final version expected to be much more form fitting and sleek.
[via iControlPad]