Submitted by Bob Bhatnagar on
We've been watching the iControlPad since it was first announced as a prototype in 2008. Now thanks to ThinkGeek this gaming accessory for the iPhone is finally available! The iControlPad has gone through several redesigns since its conception but the final product remains a Bluetooth-connected physical control pad for gaming.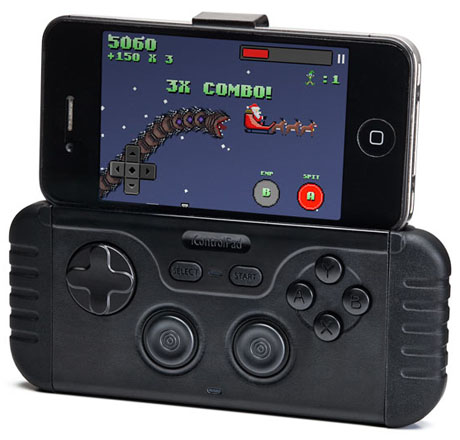 In fact, thanks to its Bluetooth connectivity the iControlPad is compatible with a wide variety of smartphones, tablets, consoles and computers. Adjustable brackets mean the iControlPad can be directly attached to a variety of mobile devices, and flash memory means the firmware of the accessory can be updated
The battery on the iControlPad is a powerful 1350mAh unit that can not only power the controller but also powers the iPhone, charging its battery. Many games are currently available on the Apple App Store without jailbreaking your iPhone, thanks to the iCade games that are already available. These are compatible with the iControlPad, but for those more adventurous, jailbreaking opens a whole new world of iControlPad-compatible retro game emulation.
The list of retro game emulators supported by iControlPad include:
- FPSE
- GBC emu
- iMAME4ALL
- MD.emu
- NES.emu
- NGP.emu (NeoGeo Pocket)
- PCE.emu (PC-Engine, Arcade like console)
- SNES9x EX
Any official iOS App Store game that supports dual nubs mode will also work with the iControlPad without jailbreaking. The accessory has dual analog nubs, a digital D-Pad, 6 face buttons and 2 rear buttons. The iControlPad package comes complete with the control pad, user manual, rubber sides, universal holder with push rivet, foam pads and USB cable. The iControlPad is available now from ThinkGeek for $74.99.