Submitted by Frank Macey on
After several rumors and leaks of the Logitech iOS 7 gaming controller, the company has officially released its PowerShell accessory. The controller case is packed with features including an integrated 1500 mAh battery that charges your device. The iPhone 5, iPhone 5s and 5th generation iPod touch can be inserted directly into the PowerShell Lightning connector.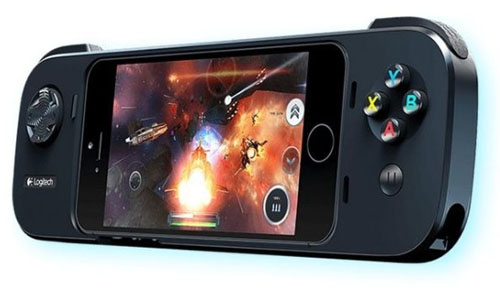 The announcement comes hot on the heels of the Moga Ace Power Gamepad launch, a competitor to the PowerShell and the first iOS 7 controller to become reality. Both units are retailing for $100 this holiday season, and work with any apps designed to support physical controllers running on iOS 7. Besides charging capabilities, the use of a Lightning connector instead of Bluetooth should enhance playability.
The Logitech PowerShell features a slim profile designed specifically to fit in a pocket and complement the iPhone and iPod touch design. The accessory has an analog directional pad, two shoulder trigger buttons (L1/L2) and A/B/X/Y button cluster. Access to iPhone features is not impeded, with cutouts for volume controls and the rear-facing camera included in the design. A headphone adapter even reroutes the 3.5mm jack and cord out of the way, for interruption free gaming.
The PowerShell takes three hours to charge via micro-USB and doubles the battery capacity of an attached iPhone. Once the PowerShell is ready for action, some of the compatible games to try include Dead Trigger 2, Bastion, Asphalt 8, and Oceanhorn. Look for more physical game controller accessories to hit the market for iOS 7 devices soon.