Submitted by Bob Bhatnagar on
According to Anandtech, Apple has an internal program to develop physical controller accessories for gaming on iOS devices. Although it's not clear whether or not Apple's mystery product will see release, this isn't the first time we've heard the news.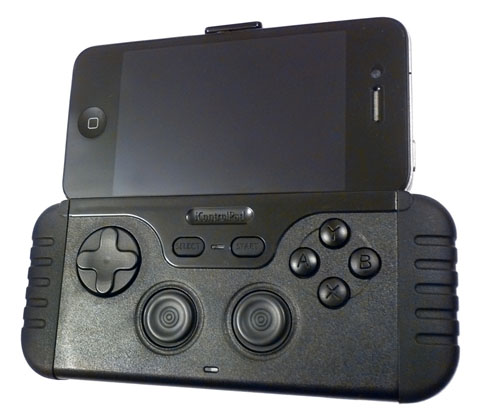 A patent revealed by Patently Apple on April 1, 2010 was not an April Fool's joke. Apple filed the patent in September 2008, including several different gaming accessories that could be used with a mobile device.
Text from the patent abstract reads:
Circuits, methods, and apparatus that provide user interfaces for playing games on portable electronic devices. One example provides a game accessory having input controls for playing video, audio, and other types of games. The game accessory can have input controls, such as buttons, joysticks, and D-pads.
Apple goes on to explain that the accessory would have a recessed slot designed to accomodate a mobile device, such as an iPhone. Several variations are illustrated, all with a touch screen device at the center. One model even adds a second screen and has a similar profile as the Nintendo DS. If Apple is working on such devices, they've done a good job at keeping them secret.
In the meantime, third party accessories such as the iControlPad have already made it to market. The device, pictured above, allows for a wide variety of devices to be mounted and connect for portable gaming. Another option is the iCade 8-Bitty, a wireless game controller with a retro design akin to the NES.