Submitted by Frank Macey on
At last year's CES Ion Audio launched the retro iPad gaming cabinet known as the iCade. Although the product started life as an April fool's joke at ThinkGeek, the maker of the iCade is now adding even more fun gaming accessories for iOS device owners.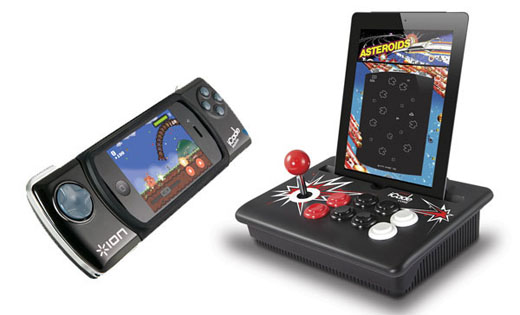 iPhone and iPod touch owners are no longer left out of the loop thanks to the iCade Mobile, a portable game control pad that connects directly to the iOS device. The mobile version will connect via Bluetooth, adding a D-pad and buttons to the iPhone for $80.
Also revealed by Ion Audio was a miniature version of the original iCade iPad arcade cabinet, also designed to fit smaller iOS devices including the iPhone and iPod touch. The device sits inside the retro-style cabinet, which provides a joystick and four buttons. The iCade Junior launches in the spring for $50. The iCade Junior can be placed on a tabletop or hand held, thanks to additional buttons located on the back of the accessory.
Last but not least, there's a new streamlined version of the original iCade, dubbed the iCade Core. With eight buttons and a joystick, the iCade Code provides all of the functionality of the original iCade, but loses the cabinet look. This simplifies the design into just a simple platform that holds the iPad vertically and makes for more portable gaming action. The iCade Core provides space for gamers to charge the iPad using a dock connector cable as well.
As the iCade line grows there are already 100 compatible games available for iOS gaming fans everywhere.