Submitted by Thomas Estilow on
Gamers are going to love this accessory when the setup hits production. Shown here is the newest prototype of the iControlpad, docked to an iPhone playing Super Mario Kart.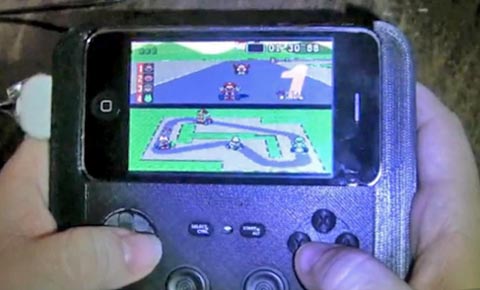 The iPhone becomes a true portable gaming machine with two analog controls, a directional pad, six buttons and two index triggers. iControlpad even has internal batteries to give the iPhone additional power.
We reported on iControlpad's original design prototype last year. Shortly afterwards it looked like the device was going into production. Turns out the developers have completely redesigned the product after receiving feedback from gamers.
Although there are over 21 thousand games officially available in the App Store, many retro gamers choose to jailbreak their iPhones to gain access to countless other titles. Most of these run on emulators that mimic older gaming systems and do not have Apple's approval.
iControlpad is offering full source code and SDK support to developers. The device requires no modifications to the iPhone. Simply attach the iPhone using the serial port and iControlpad is ready for gaming. Forget using simulated touch screen controllers that take up half the screen.
No word yet on pricing or availability. See the latest updates at iControlpad.com.