Submitted by Bob Bhatnagar on
Playing games on the iPhone can be fun, but usually it's a solitary experience. Game Center will change that some, with social features and multiplayer gaming. Problem is you're still staring at that little screen by yourself. Enter the Griffin PartyDock. The iPhone plugs right into the dock and now you're talking four-player console gaming on your iPhone.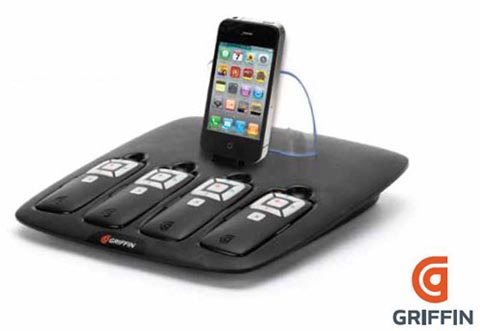 Four controllers are stored in the dock, which charges the iPhone and provides composite or component video out to your television. Griffin is calling the PartyDock a "media and game dock" for a reason. The unit does more than just play games.
Movies and videos including YouTube can be watched on your iPhone and routed through the PartyDock to your television, too. Slideshows of photos can be displayed for your group and of course all of the iPod functionality of your iPhone is available through PartyDock as well.
Back to gaming, up to four players can participate simultaneously. Only games developed specifically for the PartyDock will run with the unit. Of course, games will be available through iTunes for download on your iPhone. No word on game pricing, although the unit does come with a few free games to get you started.
Griffin has filed with the FCC for approval in the US. A release date for the device has not been announced, but if you're interested in joining a mailing list for more information the company has set up a
website
. PartyDock is pictured with the iPhone 4 and will also work with iPads (and presumably other iPhones running iOS 4).