Submitted by Bob Bhatnagar on
Rovio has released 15 new levels to celebrate St. Patrick's Day in their Angry Birds Seasons game. The level pack is complete with Leprechaun hat-wearing pigs and birds, shamrocks, pots of gold and Irish theme music. Those who already own the app can get the update for free.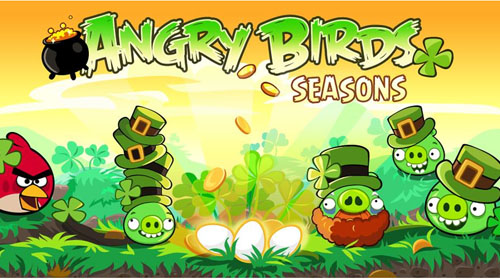 Everyone else has to fork out $0.99 for the Seasons version of the game, which now includes levels for Halloween, Christmas and Valentine's Day in addition to St. Patrick's Day. All four holiday updates have added over 100 new levels to the original Angry Birds game.
Like the previous releases, each level can be played over and over again until the player achieves a three-star score. The pots of gold and gold coins mean levels in this update are full of high scores, and there are even two new golden eggs. An additional feature makes it possible to send St. Patrick's Day cards to your friends directly from within the app. Also on the social networking front, liking the official Angry Birds Facebook page will earn you three additional St. Patrick's Day levels.
Rovio is gearing up to release Angry Birds Rio on March 22, a slightly different game that ties in with the upcoming feature film. This time, instead of blowing up pigs, the birds are trying to protect their friends from evil bird smugglers. Levels feature characters from the movie as bosses that the birds have to fight to advance. 20th Century Fox will release Rio in theaters on April 15.
The Angry Birds empire recently surpassed its 100 millionth app download on mobile devices around the globe, earning developer Rovio $70 million.