Submitted by Frank Macey on
Angry Birds is back with its latest installment, Angry Birds Seasons Back to School. Not only has developer Rovio launched a new, bubble-blowing bird into the mix, but there are 20 new levels for Angry Birds addicts to explore and conquer. The levels are themed for everyone's favorite September activity, returning to the schoolyard.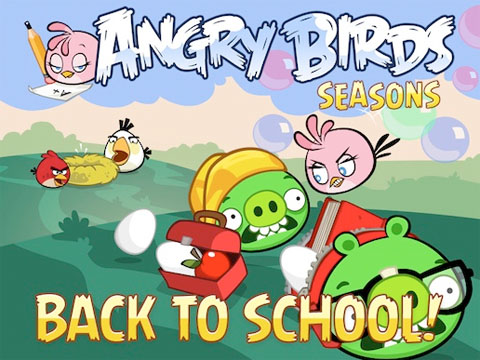 The new bird is a female, sporting pink feathers and blowing bubbles. Although it may look cute, the new bird still packs a punch against those wily pigs. The bubbles grab objects and float them into the air out of place before popping and unleashing havoc and destruction on the ground.
The update is free for owners of Angry Birds Seasons. If you haven't picked up the title yet, it's available on the App Store for $0.99.
The new Seasons installment follows up Rovio's popular Angry Birds Space title, which is expected to get a Red Planet update soon. There's no telling what lies in store for the Angry Birds franchise, started just 32 months ago with the launch of the original Angry Birds game on iOS.
What's New in Version 2.5.0
- Pencils, apples, backpacks, playgrounds -- it's back to school time! But summer's not over yet: we've got some spectacular surprises in store! Brighten your day with 20 brand new schoolyard levels, new bonus levels, and a BRAND NEW BIRD.
- Puzzle through TWENTY brand-new school levels!
- Say hello to the UPLIFTING new bird! She's cute, pink, and bubbly -- but watch out, this girl is no pushover!
- Groove to the new theme music in the fun new playground levels!