Submitted by Bob Bhatnagar on
Game developer Rovio is at it again, with 18 new Angry Birds levels commemorating Valentine's Day coming to Angry Birds Seasons. According to reports, the updated expansion pack will make its way onto the App Store on Monday, a full week before the holiday. Those who already have Angry Birds Seasons will get the new levels for free.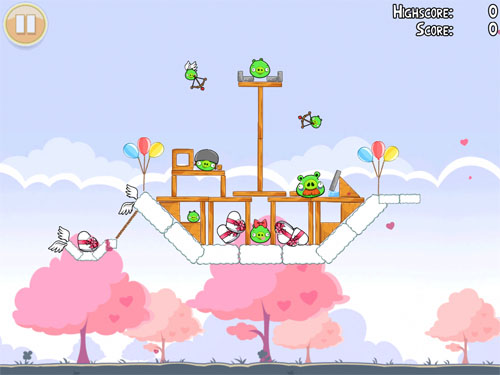 The app, last updated on December 10, costs $0.99 and already includes 45 levels for Halloween and 25 Christmas-themed levels. An HD version is also available for the iPad for $1.99. Valentine's Day levels will be contained in a new episode titled "Hogs and Kisses".
All-new backgrounds coupled with flying pigs carrying bows and arrows will get everyone in the mood for romance. Cloud blocks, heart-shaped candy boxes and a bunch of other quirky designs are all waiting to be smashed up by some angry birds and a slingshot. Like previous episodes, each level can be played for high scores until up to three stars are awarded to the player.
Since Finland-based Rovio launched Angry Birds in December 2009, over 12 million copies have been sold to mobile device owners around the globe. Another special edition of the game is currently under development and will tie in with an animated feature film. The app, titled Angry Birds Rio features special bird characters and will hit the App Store on March 22. 20th Century Fox will release the movie in theaters on April 15.
in a first, Rovio will be airing a Super Bowl commercial for Angry Birds Rio on Sunday that includes an embedded code to unlock a secret level in the game. The unlockable level will also open up a sweepstakes featuring a grand prize trip to Rio de Janeiro, Brazil for the world premiere of the movie.