Submitted by Bob Bhatnagar on
Most people think of tag as a child's game, however it can foster competition and a whole lot of running around. Now adults can play tag with their friends and the latest update to the Nike+ GPS iPhone app. The new version adds several games that will have runners setting up athletic contests between them and their friends in no time.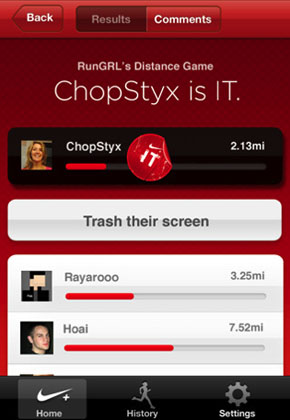 It's simple, track your run and then tag your friends using the app. They have three days to participate while you sit back and see who picks up their iPhone and runs. They can try to beat your distance, time, or even just be the first one to step up to your challenge.
Should someone talk trash and send you their game challenge, you had better step up and beat them, because if you end up in last place you will be IT. Kids know that being IT isn't really all that fun. The Nike+ GPS app is available now for $1.99 on the App Store.
Besides the tag game, Nike+ GPS is a full-featured workout tracker, with pace, distance and route tracking as well as voice feedback. The app will store your best runs and let you know what stats you have to beat next time you go out. You can even connect with friends on Facebook and activate personalized PowerSongs to get you through to the toughest goals.
Nike explains tag:
- After a run, a Nike+ GPS App user is prompted to Play Tag
- The user can invite – or "Tag" – as many Nike+ friends and email contacts as they choose
- The user can customize the message that goes to friends
- The user sets a game of Tag based upon either distance (person who runs shortest distance is IT), time (person who runs for the shortest amount of time is IT), or order (person to run last is IT).
- Tag begins once the user invites his/her friends
- Once Tag begins, the game will continue until each runner has taken part, or up to three days, whichever comes first
- The Nike+ GPS App tracks each time a runner is IT and NOT IT
- If no one other than the initiator takes part, he/she is not IT, the game just dissolves after three days