Submitted by Frank Macey on
The next installment of Rovio's blockbuster Angry Birds series has arrived for iOS devices. Angry Birds Space takes the game to an entirely new level, with physics that game designers actually discussed with NASA employees. The birds are still going after the pigs, but this time there are 60 levels in zero-gravity and on different planets.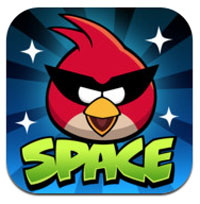 Angry Birds Space has been getting rave reviews and already in its first day on the App Store iOS device owners have rated the game at 4.5 out of 5 stars. In addition to hidden bonus levels, there are new birds and bird superpowers to be used against the pigs and their fortifications.
For an extra $0.99 there's also an in-app purchase available that adds 30 extra levels, which Rovio calls the Danger Zone. Space Eagles can also be purchased or earned through playing the game, and these birds unleash a wormhole of destruction on the pigs. Rovio plans to provide free updates to Angry Birds Space, as they have with other games including Angry Birds and Angry Birds Rio.
After a giant claw kidnaps their eggs, the Angry Birds chase it into a wormhole and find themselves floating in a strange new galaxy – surrounded by space pigs! Luckily the Angry Birds have super powers of their own...
Unlike the more terrestrial-oriented versions before, the path of your bird launch through space is helpfully guided by a laser-sight. The backgrounds and graphics that include everything from stars to atmospheres are a welcome refresh to the look of the series. Angry Birds Space is a $0.99 download for iOS 4.0 and later, compatible with the iPhone 3GS, iPhone 4, iPhone 4S, iPod touch (4th generation) and iPad. Angry Birds Space HD for the iPad runs $2.99.