Submitted by Frank Macey on
Angry Birds fans and newcomers alike can now enjoy version 2.0 of the game on any Apple device running iOS 3.0 or later. Rovio has launched the latest update to the ever-popular game to celebrate its 2nd birthday. Angry Birds has been the number one paid seller in the App Store all over the world, and continues to bring new levels into play.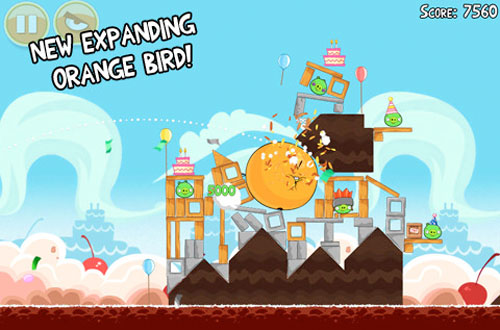 Angry Birds 2.0 adds 15 entirely new levels with a birthday cake theme to celebrate the anniversary, bringing the total number of levels available to a whopping 300. Not only this, but all episodes are unlocked in the new Angry Birds, so you can skip ahead and start with the first level on any episode at any time regardless of your progress.
Another treat is the addition of a new bird, with a whole new way to attack the pigs and their structures on the board. The bird is described by Rovio as the "amazing expandable orange bird" and the title fits this bird well. When you're attacking in the Birdday Party (Episode 7) just launch the orange bird, then tap the screen and this bird will instantly inflate, knocking down posts and attacking pigs. The bird deflates after it sees action.
There are also new menus and graphics to be seen, and special birthday achievements to work on as you play. Angry Birds has spun off a series of seasonal levels as well, in the app Angry Birds Seasons. Besides this, Angry Birds Rio is another game available on iTunes and an animated feature film. All three Angry Birds games are available in free versions, but each full game with all levels costs $0.99. Rovio has also released HD versions of all titles in the Angry Birds franchise for the iPad.