Submitted by Sammy Snyder on
Angry Birds Star Wars II has been updated with 30 new levels, and it is free for the first time on the Apple App Store. The all-new "Master Your Destiny" chapter allows you to play as a young Jedi warrior or Pork Federation member as you train to become a Jedi or Sith Knight. There are 15 new Bird Side levels and 15 new Pork Side levels.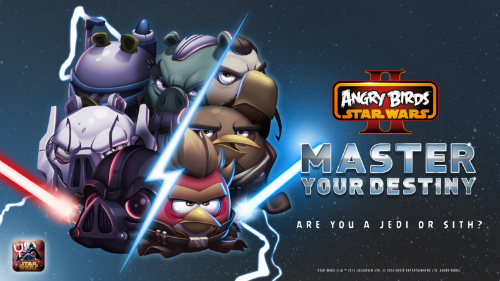 If you have never played Angry Birds Star Wars II, the game is based on the original Star Wars prequels. Players can choose to join the Force for good, "Join the Pork Side" and play as popular villains such as Darth Maul. The game features over 30 playable characters based on popular Star Wars universe and it supports Hasbro's interactive telepod toys.
Angry Birds Star Wars II is now available for free on the App Store. It supports all devices running iOS 4.3 or later.
The Finnish game studio behind the popular
Angry Birds
franchise, Rovio Mobile, also recently announced it was once again teaming up with Hasbro to release a
Transformers
crossover. The game will be available in September 2014.