Submitted by Marshall Walker on
The newly announced Angry Birds Star Wars app won't be available until November 8, but fans of both franchises can begin collecting the toy line starting on October 28th. Several online retailers are currently accepting pre-orders for the toys which include: A Jenga Death Star Game, an Angry AT-AT Attack Battle Game, and five plush Angry Birds / Star Wars characters (Darth Vader, Luke, a Stormtrooper, Leia and Han Solo).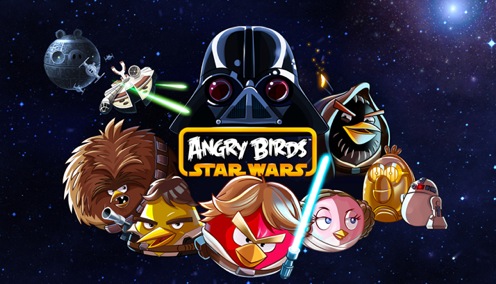 Rovio Entertainment has also rolled out a line of new Angry Bird themed Halloween costumes for children and adults, and also plan to release an Angry Birds / Star Wars apparel line in the near future. The game will be available on more platforms including iOS, Android, Amazon's Kindle Fire, Mac, and Microsoft's Windows, Windows Phone and Windows 8. Rovio promises that both franchises will be well represented in the crossover.
"From the deserts of Tatooine to the depths of the Death Star – the game and merchandise will feature the Angry Birds characters starring as the iconic heroes of the beloved Saga," Rovio said.
The Angry Birds Star Wars toys are guaranteed to be one of the hottest selling holiday items this year. Pre-ordering now will not only ensure you're not left out in the cold, but it will also help you avoid the holiday mobs this shopping season. Hit the links below to reserve your Angry Birds Star Wars merchandise today!