Submitted by Thomas Estilow on
Video and film enthusiast site Vimeo has developed its own iPhone application, available for the iPhone 3GS and iPhone 4. The application is free and includes features such as access to your Vimeo account, browsing videos, and editing and sharing video created on your mobile device.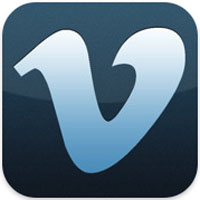 Many of the features of your Vimeo account can be opened from the iPhone app, such as liked videos, account information and access to the huge library of Vimeo content online. What makes the app different is the video shooting and editing features built into the software. Vimeo has come up with a credible free video editing alternative to the $4.99 iMovie app from Apple.
Video can be recorded within the application or chosen from the camera roll to start editing. Video clips can be trimmed and combined, titles, transitions and a soundtrack can also be added. After you've crafted your video masterpiece you can title, describe, tag and credit your work and it can be uploaded and shared. Vimeo is connected not only with the Vimeo website but also with Facebook, Tumblr, WordPress, Twitter, MMS and email.
Other features of your Vimeo account such as Watch Later and the Inbox are also available when logging into the app. The Vimeo iPhone app has been in the works for quite some time. Vimeo first started encoding its video collection into iPhone compatible H.264 format in late 2009. This made it possible to watch the wide variety of creative content on Vimeo using a mobile web browser.
Vimeo sets itself apart from more popular video site YouTube by encouraging a creative community of original work and banning commercial content. Video creators and filmmakers started the site in 2004 to help fans of the medium share their work. Free accounts allow up to a half gigabyte of video uploads every week, with Plus accounts increasing the cap to 5GB. Vimeo continues to grow with its latest offering of a free iPhone app for video viewing, editing and sharing.