Submitted by Frank Macey on
Ever send a message with invisible ink to a friend? Now with the Black SMS app, text messages can be encrypted and decrypted easily by any iPhone owner with the right password. Once Black SMS is installed on your iPhone, the secret message is simply typed into the app and a password assigned.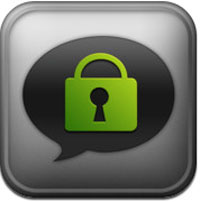 Copy and paste the message into an SMS or email message, then send away. Just make sure you share the password with your recipient, because otherwise nobody will be able to read your message. Black SMS uses Advanced Encryption Standard for serious security, even though the app is simple to use and only costs $0.99 in the App Store.
No jailbreak is required to run the Black SMS app! The app promises to keep you communications private, regardless of any other security threats to your iPhone or even people reading over your shoulder. Of course, seeing a Black SMS come through on a neighbor's iPhone screen could arouse suspicious, as the incoming text message will appear concealed.
For $0.99, Black SMS will keep your private communications more secure. Installing the app is as easy as using iTunes or the App Store on your iOS device to download the software, and Black SMS can also be used to securely message multiple recipients. The app also supports several different languages and non-English characters. Check out Black SMS on iTunes if you're interested in a little more privacy.