Submitted by Bob Bhatnagar on
Now iPhone users can get even more free apps. There's a new way to keep track of developers that run promotions. Many companies will temporarily drop the price of an app for a limited time, or even offer the application for free.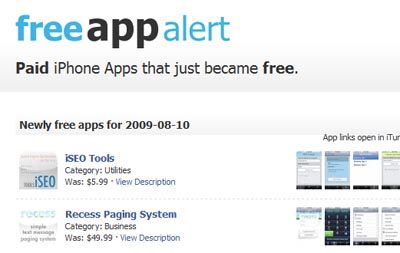 FreeAppAlert organizes all of these deals into a central location. Every day tens of paid iPhone apps are listed that have dropped their price to FREE for a limited time.
FreeAppAlert will send real-time updates when apps become free over email, or update you via Twitter, Facebook or RSS.
The website is simple and easy to use. Preview images of each application are visible and zoom with a rollover. Descriptions for each app are expandable right in the main list on the page. Clicking the app name will open iTunes for downloading.
As the App Store gets overwhelmingly crowded by iPhone applications of all prices, services like FreeAppAlert promise to make it more convenient to find useful software at discount prices.