Submitted by Bob Bhatnagar on
As another holiday descends upon America, the App Store is brimming with iPhone apps to celebrate the occasion. Our simple search for "Thanksgiving" along with some shopping and Black Friday apps brought the total to almost 200. Not as excessive as the Halloween app count but daunting nonetheless.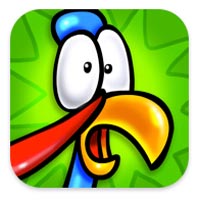 You're going to have that iPhone with you anyway, so why not use it to help navigate through and enjoy this coming week? Here are ten Thanksgiving and Black Friday apps to try. All of these applications are available through the App Store for $2.99 or less.
1. Turkey Blast: Reloaded. Free. While you're waiting at the airport or looking for something to do while others are napping on the couch, why not hunt turkeys? Unlock 14 different weapons in this arcade-style game with 70 prizes and unlimited levels. Game Center features included.
2. Vintage Thanksgiving Cards. $1.99. Upgrade your iPhone wallpaper or send unlimited e-cards to friends and family for no additional charge. Over 100 different cards have been restored and included in a flip-through gallery. Vintage greeting cards span from the Victorian Era to Post-War America.
3. iFeast: Thanksgiving. $2.99. This app comes preloaded with four menus and scheduled countdowns to sync meal prep work and cooking times. Make sure everything is ready on time and served hot with push notifications to remind you when to get back in the kitchen. iFeast is also customizable with your own menus and cooking schedules.
4. World Flights. $1.99. Get live arrival and departure information for any flight at any airport around the globe. You can also automatically find the closet airports to your current location and add favorite airports for quick reference. Don't find yourself waiting at the wrong terminal when your guests arrive!
5. CHOW Thanksgiving Dinner Coach. Free. Get the basics down for your holiday meal with nine traditional recipes and step-by-step instructions. Shopping lists are included along with a weight calculator that will tell you how long to cook your turkey. Great for beginners.
6. PriceGrabber. Free. Compare prices at online and retail stores for your favorite products to make sure you get the best deal. Items can be looked up via search or by uploading a photo of the UPC symbol barcode from anywhere.
7. Black Friday by BradsDeals. Free. All the hottest circulars and advertisements for Black Friday, now on your iPhone. Research, plan and execute your shopping with the best deals and pre-release Black Friday ads.
8. Tweetsshop. $0.99. Tweets and Twitter photos can be viewed from retailers and forums with special Black Friday tracking. This app doesn't require a Twitter account! Consolidates all of the best deals, coupons, sweepstakes, rebates, offers, and discounts on Twitter in real time.
9. SnapTel. Free. Make sure you're looking at the best deal on books, games, CDs and DVDs with SnapTel. Just take a photo of either the item cover or the UPC symbol to get information on the product and pricing details. Pretty cool that you can just snap the cover!
10. In the Kitchen. $1.99. Enhance your Thanksgiving dinner with tons of additional recipes from Food Network chefs. Handy tools like a kitchen timer and conversion calculator join features such as shopping lists and recipe boxes. Keep your favorites on hand for the next big dinner or try something new and challenging this Thanksgiving.