Submitted by Bob Bhatnagar on
iTunes normally overflows with holiday spirit and this Halloween is no different. A simple search in the App Store for "Halloween" results in 1,077 iPhone apps. Over one thousand apps? Maybe a more specific search is in order, but in the meantime we're going to narrow it down to the lucky number thirteen. They're all available now for $1.99 or less.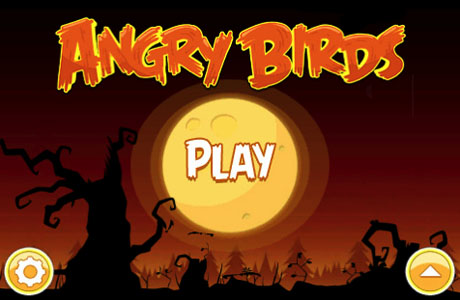 1. Angry Birds Halloween. $0.99. All of the excruciating fun of the original blockbuster game with- you guessed it- Halloween themed graphics and 45 new levels. Smashing pumpkins has never been so much fun.
2. iMut8r. $0.99. Choose from seven different scary characters to convert photos of you and your friends into. Witches, demons, vampires... you get the idea. Multiple monsters can even be combined into a new freakshow with the app.
3. Ghost Radar. $0.99. Helps to detect paranormal activity with a variety of mock controls and sensors. The app can even detect interesting words from the other side. Will drive you nuts if you've watched too many ghost hunting shows on TV.
4. True Ghost Stories From Around the World. $0.99. Following the ghost theme, this app allows iPhone users from anywhere to submit their own ghost stories. Read up or report on what's been happening on the international paranormal circuit.
5. Ghost Hunters Haunted House Finder. $0.99. Looking for more material for your ghost story? Find a haunted location in the US from a list of the top 100 freaky places. Tourist attractions, hotels, museums and more are featured here.
6. Scene It? Horror. $1.99. You may have heard of Scene It, a popular line of interactive games that test your movie trivia knowledge. The iPhone app has a similar function but features video highlights and favorite screams from some of the best horror flicks ever filmed.
7. Costume Generator. $0.99. Looking to find the perfect costume for your mood and chosen Halloween night activity? This app will help you find your way. Answer a few simple questions and Costume Generator has your back, showing you all the details of your perfect costume.
8. Carve 3D. $0.99. That's right, who needs to deal with the gross innards of a real pumpkin when you can carve a virtual one? Draw your pattern on a 3D pumpkin right on your iPhone. Ok, maybe it doesn't have quite the same charm.
9. 123 Glow Coloring Book Halloween Edition. $1.99. Kids love Halloween. Here's a super fun app that offers 14 different finger-paintable Halloween coloring book sheets, right on your iPhone (or iPad). There are also some other drawings, but who cares about dinosaurs on Halloween?
10. DJ Halloween. $0.99. Create a "music" mix with any of 16 looping Halloween sounds simultaneously. Cackling witches, swarming bats... can you handle the creative power at your fingertips?
11. Halloween Sound Box. Free. Use these 16 creepy sounds to freak people out on Halloween. Includes a cat in heat, coffins opening, weird voices, screams...
12. Halloween Postage. $0.99. Put your own photos in a Halloween-themed e-card with a fun or creepy custom message. Pass along your holiday spirit and creative work using MMS, email or Facebook.
13. Halloween Pumpkinizer. $0.99. Another way to send greetings to your friends and family this Halloween. Imagine taking a person's face and Photoshopping it into the middle of a pumpkin photo. Yep, that's all folks.