Submitted by Bob Bhatnagar on
As expected, Rovio has released 15 new levels for Angry Birds Seasons to commemorate the arrival of spring and the Easter holiday. Version 1.4.0 for iPhone features pigs with bunny ears and plenty of Easter eggs. There are also bonus levels that can be unlocked by liking the game on Facebook from directly within the app.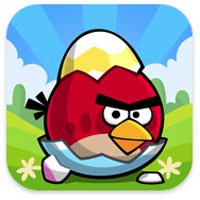 The update is free for those who already own Angry Birds Seasons, but if you haven't joined the fun yet it's only $0.99 for all of the holiday levels ($1.99 on the iPad). Previous releases include Halloween, Christmas, Valentine's Day and St. Patrick's themed levels with the same basic game that Angry Birds fans have become accustomed to playing. Rovio continues to expand the Angry Birds franchise with new software on the horizon.
Angry Birds Free with Magic will initially release only on Nokia phones, and requires a near field communications (NFC) equipped device. This makes it possible for the game to do special things when a friend's phone is near. For example, the game will ship with 20 levels, but only 5 will be unlocked. Finding a friend with a similar setup makes it possible to unlock 5 more levels each time you tap your phones together. You must find three friends with NFC equipped phones to tap and unlock all of the levels.
Angry Birds Rio has been downloaded over 10 million times, tying into the recent theatrical release of the animated movie. Rio was a box office hit this Easter weekend with kids and their parents jamming theaters to see the movie. Angry Birds games are now available on multiple mobile platforms including iOS, Android and Windows Phone, with more in the works.