Submitted by Bob Bhatnagar on
With Panasonic's MW-20 digital photo frame, you can show off the photos, videos and music on your iPhone in style. The MW-20 stands in portrait or landscape orientation on a flat surface or can be mounted to a wall for that hanging picture effect.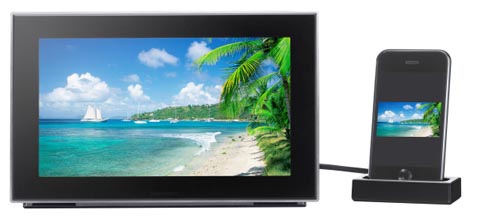 The iPhone docks and shares content with a nine-inch high-resolution LCD screen, and a built-in 5.6mm speaker provides audio. The MW-20 also includes two GB of internal storage and fifteen different display patterns for photos.
Of course the MW-20 will charge your iPhone while docked. The photo frame even has an SD card slot for additional content. Those iPhone owners with Panasonic digital cameras can enjoy a Lumix scene mode playback feature as well. An intelligent auto mode will quickly preview all photos taken in specific modes such as Scenery mode or Portrait mode and more.
The frame has an adjustable hinge design and even automatically adjusts the brightness of the screen depending on how bright ambient light is in the room. The device has included screensavers and automatically shuts off when the room is dark. Panasonic launches the MW-20 just in time for the holiday season. The photo frame iPhone dock comes out in November for $250.