Submitted by Bob Bhatnagar on
When it comes to smartphone photos taken and posted on popular sharing site Flickr, Apple just surpassed itself again. The iPhone 4S has flown up the ranks to beat the iPhone 3G as the second most popular device to snap photos with on Flickr. This kicks the iPhone 3GS down to third and the Android HTC EVO 4G into fourth place.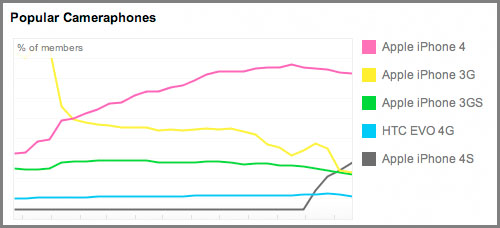 The reigning champion of mobile phone image uploads? The iPhone 4 retains its lead in the segment, blowing away the competition. In fact, when it comes to overall camera statistics on Flickr the iPhone 4 also comes in first place, ahead of several digital SLR models. The Canon EOS 5D Mark II and the Nikon D90 follow in second and third place respectively, with the Canon EOS Rebel T2i and Canon EOS 7D following behind.
Flickr's Camera Finder page tracks usage statistics on a regular basis, and normalizes the results to correct for new members. Graphs like the one pictured above represent an individual camera's popularity relative to all cameras being used by the total Flickr member base. No doubt that Apple's camera stats are impressive, however Flickr does note that smartphones often don't embed device information in photos. This could mean that other smartphone models are underrepresented in the final statistics.
The iPhone 4S camera improved upon the previous model with an 8-megapixel backside illumination sensor, larger f/2.4 aperture and a five-element lens. With a hybrid infrared filter, built-in face detection and reduced motion blur, the iPhone 4S camera competes with many compact point and shoot cameras currently on the market. For these reasons, plus the ability to edit, enhance and upload pictures directly on the device iPhone 4S users are sure to continue sending their favorite photos to Flickr.