Submitted by Thomas Estilow on
If you love taking photos with your iPhone 3G or 3GS then you'll love this new accessory from Mobile Mechatronics. With a snug fit into the base of the iPhone, the tripod adaptor docks and makes it possible to use the iPhone with any tripod.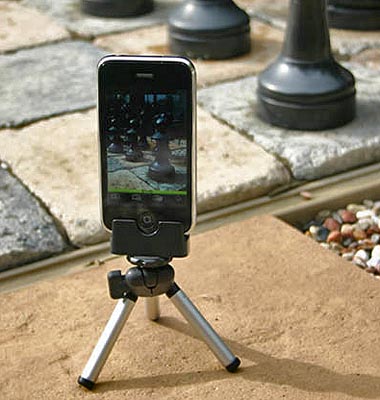 The interior of the adaptor is padded to avoid damage to the iPhone screen or back. A miniature tripod is included, which also folds up for portability.
The Blur iPhone tripod kit is available for $14.99. Total weight is only two ounces and the adaptor will mount your iPhone to any 1/4 inch by 20 thread photo or video tripod. The included miniature tripod lifts the iPhone over 6 inches off the base surface when fully extended.
One limitation of the Blur is that it only holds the iPhone in the vertical position.
Mobile Mechatronics is also offering improved iPhone camera software. The app will soon be available in the App Store and comes included with the tripod product bundle. This application will provide a delay feature, time lapse, multi-photo, and a level for lining up the perfect shot.
You may not ditch your DSLR thanks to the Blur, but if you're just looking to improve your iPhone photos, this could be the answer.