Submitted by Frank Macey on
More evidence has appeared of what looks to be the next generation charging and sync cable from Apple. Moving to an 8-pin symmetrical design will allow the cable to be plugged in without concerns about the orientation of the dock connector.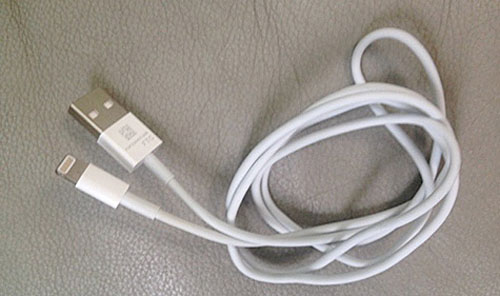 iLounge explains that the photo could be of a replacement cable or an authentic Apple part with pre-production stamps on the full-sized USB end of the cable. The design of the cable certainly looks like existing 30-pin dock connector cables that have been in use on all of Apple's mobile devices since 2003.
Besides leaving more room in the iPhone 5 for things like a larger battery and LTE radio components, the new dock connector is expected to feature Apple's MagSafe connector, which means no more worries about tripping over cables. The MagSafe plug is designed to disconnect easily when pulled, with a magnet holding the cable in place for charging and syncing.
Apple is also rumored to have plans for an iPhone dock connector 30-pin adapter, which would make it possible to connect older accessories to the new iPhone. Unfortunately, even with an adapter some accessories will still become obsolete or not quite fit the iPhone 5 and its much smaller connector.
Apple is expected to launch the next generation iPhone on
September 21, 2012
.