Submitted by Bob Bhatnagar on
If you haven't seen enough photos of iPhone 5 components yet, here's another that's sure to light up your day. The fact that the next generation dock connector is rumored to be an 8-pin symmetrical design is exciting enough. No more fumbling around in the dark with a 30-pin connector and trying to get it to plug in the right way.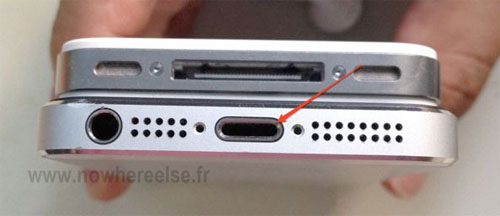 Even better is the prospect that Apple plans to incorporate MagSafe technology into the next generation iPhone port. The photo above from nowhereelse.fr clearly shows a metallic housing on the smaller dock port that could indicate MagSafe functionality.
Even though it's rumored that Apple will release an adapter for 30-pin accessories, many are concerned that any change to a smaller iPhone dock connector will make many third-party devices obsolete. Rumors have circulated that Apple is reducing the number of pins from 30 in the original connector first introduced in 2003. Reports have varied from a 19-pin connector to 9-pins or even 8-pins in the latest rumors.
Apple has definitely been awarded patents for a smaller dock connector, so we can expect to see them appear on mobile devices very soon. The iPhone 5 is expected to launch in September. The smaller dock port would make room in the next generation iPhone for an LTE radio, larger screen, larger battery and other improvements.
MagSafe technology has been introduced on Apple notebook computers. The plugs allow users to connect power cables in any direction, and if they are pulled out, no damage is guaranteed. The connection is held tight by magnets, but gives way if the cable is pulled suddenly.