Submitted by Bob Bhatnagar on
The smaller, 19-pin dock connector expected to arrive with the next generation iPhone may be a different design after all. Leaked photos on 9to5 Mac show a dock connector cable with 16 pins, including 8 on each side. Apparently only 8 pins would be used in the iPhone 5, with the other side reserved for future use.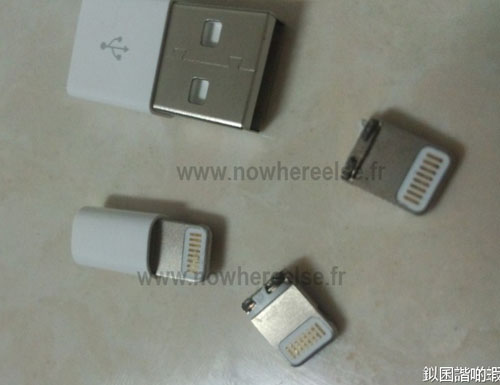 The plug has contacts that look more like a USB cable or SD memory card, and would not have to be oriented in a particular direction to connect. This symmetrical design simplifies the process of plugging in a dock cable to the port at the bottom of the iPhone or accessories. Speaking of which, there is some concern that the new design will render many third-party accessories obsolete, despite a rumored adapter.
A smaller dock connector makes room for other components in the slimmed down iPhone 5. Space is at a premium as Apple is expected to enlarge the iPhone battery to compensate for demands from the LTE radio. The redesigned hardware will also include a new touch screen design that will make the iPhone thinner, along with a smaller home button and nano-SIM card. The display itself will be taller, with a 16:9 aspect ratio.
Apple's original 30-pin dock connector first came into service in 2003 on the third generation iPod and can be found on all of the company's mobile devices. Although the pins have been used for different purposes, the form factor of the 30-pin connector has not been changed.