Submitted by Frank Macey on
Previous reports have indicated the iPhone 5 will be completely redesigned by Apple. Now Economic Daily News, a Taiwanese publication, cites sources who say the next generation iPhone will have an aluminum back. This would bring the iPhone 5 in line with recent iPod touch and iPad 2 designs and highlight one of Apple's favorite materials.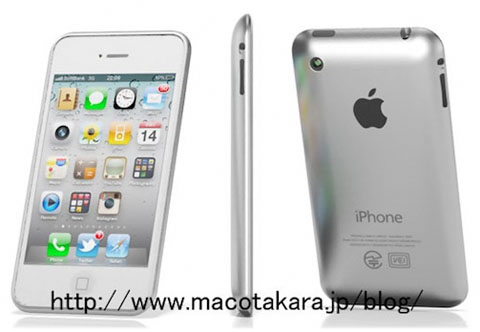 A move back to aluminum would also reduce durability problems experienced by users of the iPhone 4 and its glass back. The conceptual rendering above by Taiyo-Fujii is unrelated to statements by Chinese manufacturing insiders, however it clearly receives its cues from the iPad 2. The original iPhone featured an aluminum back along with a plastic bottom to help alleviate reception issues with the internal antenna.
The return to an aluminum back would likely be launched in tandem with a new internal antenna design. Apple patents have pointed to designs similar to that found on the original iPad, with the Apple logo in plastic serving as a window for radio signals. Designing the iPhone 5 in this way could cut down on reception issues from attenuation, currently a problem on the iPhone 4. The external antenna design on this model improves reception in low-signal areas, but also drops signal strength when the iPhone antenna gaps are bridged by the hand.
It remains to be seen whether or not aluminum unibody construction would allow Apple to give the iPhone 5 a slimmer profile while improving antenna reception. Manufacturing the glass panels has certainly been tough for Apple engineers, as evidenced by the missing white iPhone. Light leaks in the back of the white iPhone 4 have caused problems with the camera and suspended release of the device. Even the black iPhone 4 manufacturing process is difficult, as painting the glass properly and treating the material takes time.
Aluminum would reduce the chance of breakage and scratches and possibly reduce weight on the iPhone 5. Not to mention it looks sharp and is recyclable, too. We'll be on the lookout for further information leaks and photos of the iPhone 5 as they become available. The device is expected to launch sometime between July and September of this year.